There are multiple ways to pay for college, don't let money deter you. UCs provide a vast amount of resources for undocumented students. Checkout all of the resources available to you!
When you apply for the CA Dream Act, you are also applying for Cal Grants, institutional grants, etc.
Image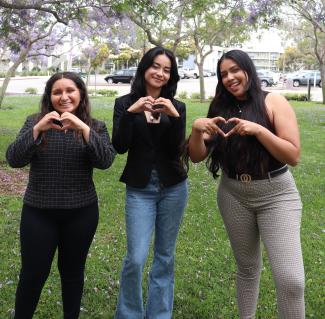 CA Dream Loan
The California DREAM Loan Program provides eligible undocumented AB 540 undergraduates with the option to borrow loans to help cover the cost of attending UC.
Additional Resources
For more information, check out the following links
Scholarships
2022 Scholarships for Undocumented Students at UCSB
Dream Scholar Fund Scholarship 
USS Programs Scholarships
At the end of this spring, we will be awarding scholarships ranging between $500 and $1,000 (totaling more than $15,000 in scholarships).
UCSB current student and have financial aid application (i.e. CA Dream Act) on file for 2021-2022 Academic Year
Demonstrate financial need
There is no G.P.A. requirement
USS Programs Scholarship Applicants ONLY: Students applying for the USS Programs Scholarship MUST have participated in one of the following programs during the 2021-2022 Academic Year: 
Students applying to the Dream Scholars Fund Scholarship are not required to have participated in any of the USS Programs listed above. 
Complete scholarship application including the scholarship essay prompts. Students MUST answer the prompt/s for the scholarship they are applying for. 
The scholarship essay prompts ask that you focus on one or more of the following reasons:
Our #1 tip is that you actually apply, regardless of GPA! There is no GPA requirement. Your job as an applicant is to write a strong essay and submit an application on time, let the committee decide who are the scholarship recipients as supposed to select yourself out due to your grades or other factors. If eligible, you are encouraged to apply to both the Dream Scholars Fund Scholarship and the USS Programs Scholarship.
Submit the complete application via DocuSign (click here).
Applicants are encouraged to prepare before submitting the application. Use this document to prepare.  
A complete application will include the following:

2022 USS Scholarships for Undocumented Students at UCSB Application
Scholarship Essays 

ALL applications MUST answer prompt 1 and 2 
Students applying for the USS Programs Scholarship MUST answer a third prompt

Make sure to indicate which scholarship you are applying to and answer the questions accordingly.
Submit application before the deadline which is Sunday, May 8, 2022, by 11:59 PM. No late application will be accepted. 
 Deadline
The deadline for both scholarships is Sunday, May 8, 2022, by 11:59 PM.
Selection Process
Applications will be reviewed by a committee. All applicants will be notified of the status of their application by the end of the 2022 Spring quarter.