The Monarch Opportunity Scholarship is a collaboration between Office of Financial Aid and Scholarships (OFAS), Career Services, and Undocumented Student Services scholarship developed to ensure that all students have the opportunity to receive financial support and achieve their educational and professional goals.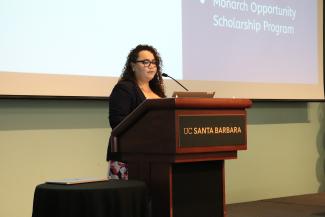 Focus on undergraduate students who

Demonstrate financial need with a focus on students who ARE NOT eligible for federal and UC work study AND
Are AB 540 eligible (if you are receiving financial aid through the CA Dream Act, you are AB 540 eligible)

Must be a full-time undergraduate student at UCSB during the academic school year
Must submit a completed application for an opportunity
Engage in an opportunity i.e. internship
If you are eligible for this scholarship, the scholarship should be part of your financial aid award under "professional experience opportunity eligibility".
If you have any questions about whether you are eligible or not, please contact USS Director, Rosa Salamanca.  We recommend any eligible students who are interested in applying to reach out to Career Services for support with resumes and cover letters. 
For more information visit: Career Services
Internships available to apply
Department: 
Undocumented Student Services
Overview:
By participating in the Monarch Opportunity Scholarship with the Undocumented Student Services (USS), selected students will serve as Student Mentors for the USS Pre-Pair Program. As a Pre-Pair Program Student Mentors at USS, students will primarily support a cohort of undocumented students participating in USS's Pre-Pair Program in order to help them navigate their first year at UCSB. Furthermore, Student Mentors will provide holistic support to UCSB undergraduate undocumented students who are not part of the Pre-Pair Program. Student Mentors will work with Lead Intern and USS Team to identify and develop resources tailored to undocumented students.
Deadline: 
Sunday, Dec. 11, 2022 at 11:59PM