Image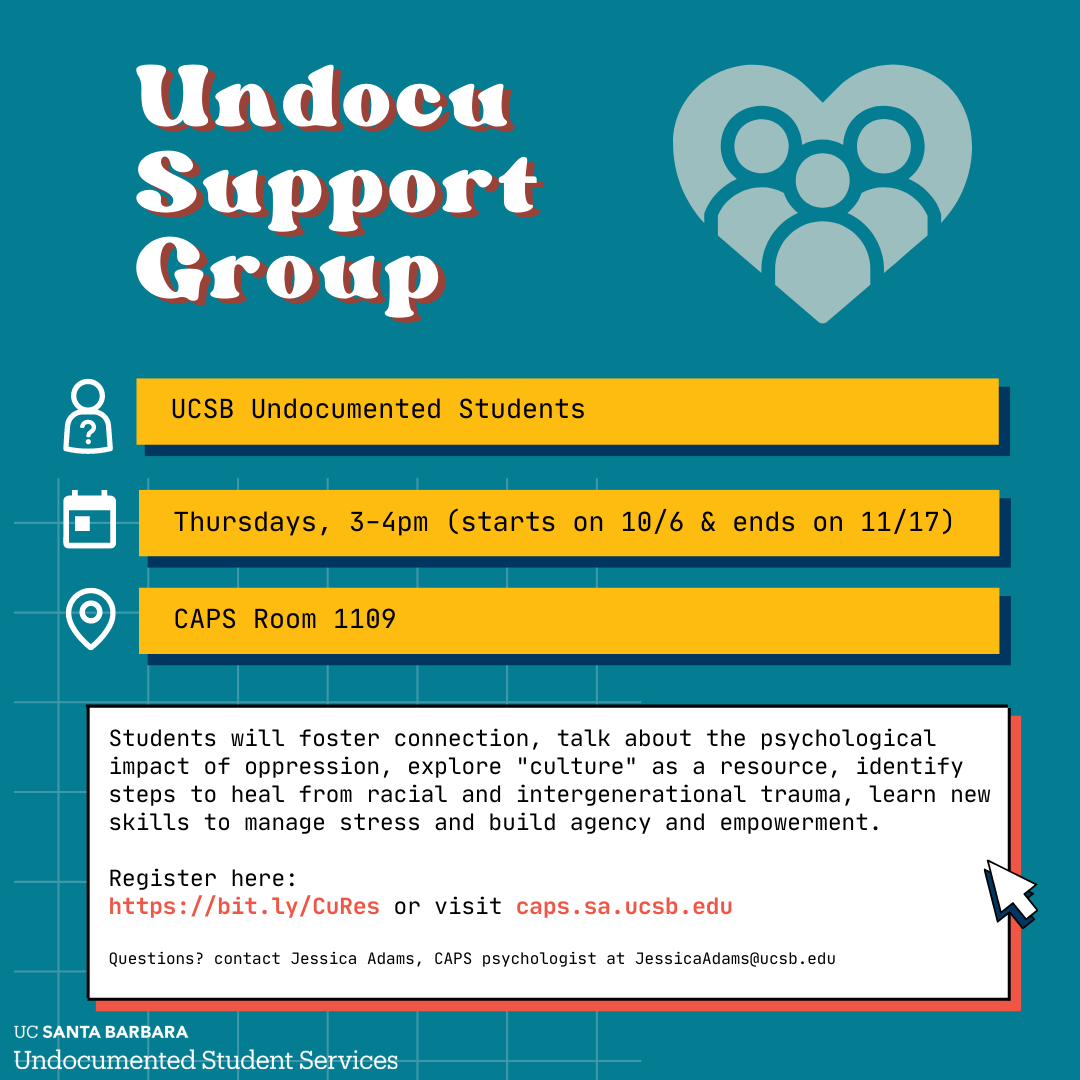 UndocuSupport Group
UndocuSupport Group is a space for group-focused empowerment and a place to find strength through your community. During weekly meetings, students are led by a CAPS counselor and are given the opportunity to process the complexities of being undocumented. Through exploring various topics and sharing their burdens in a group setting, students are given the chance to heal.
Contact Info
If interested, please Register or Visit CAPS
Have questions, please contact CAPS psychologist @ Jessica Adams
UCSB HEALTH & WELLNESS RESOURCES
UCSB Student Health provides exceptional, inclusive, compassionate, comprehensive, and integrated healthcare services to promote health and well-being in order to empower students to thrive throughout their university experience.
UCSB Health & Wellness supports the flourishing of students as they navigate the University experience for academic success and a fulfilling life. Health & Wellness provides services and resources related to psychology, meditation, sleep, Food, Nutrition & Basic Skills, Sexual Health & Relationships, stress reduction, eating disorder & body image, and alcohol and other drugs.
Counseling & Psychological Services (CAPS) is committed to providing timely, culturally appropriate, and effective mental health services to our diverse UCSB student body, as well as professional consultation to faculty, staff, and families.
All registered students are eligible for services at CAPS. When help is needed in sorting out a personal concern, CAPS is a resource for learning new skills in building self-confidence, relating to others, reducing stress, solving problems, and identifying options.
The Jack Canfield Student Medical Emergency Relief Fund (SMERF) provides grants to students with expenses related to medical, dental, psychological, and optical emergencies.
For the purpose of this fund, a medical emergency is a condition, injury, or illness that poses a risk to a person's life, long-term health, or well-being and requires timely intervention. Prescriptions or medical care costs related to ongoing, non-emergency conditions are NOT covered.
Based at Student Health, this confidential service connects students to a social worker who can address potential obstacles to students' success and develop a comprehensive plan to overcome them. Services include psychosocial evaluations, crisis intervention, complex needs counseling, community linkage, and referrals for behavioral and physical health needs.
PUBLIC HEALTH & WELLNESS RESOURCES
Taking into account a hostile immigration enforcement and rhetorical environment for immigrants, the California Psychological Association provides these recommendations for practice to mental health professionals who provide services to undocumented immigrants.