At University of California, through a partnership with UC Immigrant Legal Services Center, we provide free immigration legal services to UC students and their immediate family members. Through a partnership between Undocumented Student Services and the UC Immigrant Legal Services Center, an attorney dedicated to immigration issues is available.
Image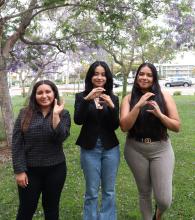 Attorney Amber Spring is able to meet with UCSB undocumented students and their immediate family members, as well as students who are U.S. citizens with undocumented family members to discuss matters such as: 
Immigration legal advice
DACA renewals
Special Immigrant Juvenile Status (SIJS)
U-visas
Temporary Protected Status (TPS)
Know Your Rights Information 
Other immigration relief
Emergency Immigration Legal Services
Offers assistance for emergency cases where students or immediate family members are detained or at risk of deportation. 
Contact UCSB Staff Attorney, Amber Spring, via (530) 574-6329 or amber.ucimm@law.ucdavis.edu. 
DACA Renewal Funds
UC Immigrant Legal Services Center is currently providing financial assistance to students who receive legal services through them. Funding limited and available until the end of Dec. 2022.
UWD's DACA renewal fund is currently open and accepting scholarship requests to individuals if no local funds are available to them. Apply. 
Associated Students Legal Resource Center (ASLRC)
Remove barriers by providing immigration legal services so UC students can achieve their full potential in their educational pursuits.
For assistance, visit the ASLRC at The Pardall Center (Upstairs on the 2nd Floor), 6550B Pardall Road, Isla Vista
Offers free information and support to registered UCSB students on a wide range of issues, including legal consultations, education, and referrals.
MIP, Public Intoxication, Fake ID, noise violations, and public urination citations

Security deposit disputes, evictions, habitability situations

Restraining orders, dissolution vehicle accidents

Lease & rental Information, roommate conflicts

DACA application support
Office of International Student & Scholars (OISS)
Cultivate an inclusive environment which supports international students academically, professionally, and personally by providing holistic advising on immigration, employment, and cultural matters.
F-1 students, J-1 scholars, H4 and those who are aging out, scholars applying for greens cards.
Office of International Students and Scholars
The UCSB Office of International Students & Scholars provides immigration support, advising, and cultural programming for international students and scholars. They provide support and information for those with valid student visas, those seeking employment with a student visa, and any other immigration issues that arise from studying in the US.