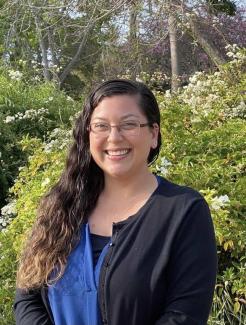 Basic Needs and Rapid Rehousing Manager
she/her
Basic Needs/ Enrollment Services
805-729-6872 (Mobile)
How can I help?
Questions related to basic needs programs and services available
Questions regarding the USS Grocery Voucher Program
Questions regarding emergency resources, food access, and other basic needs concerns such as technology access
About Me:
I graduated from UC Santa Cruz in 2011 with a degree in Language Studies with an emphasis in Spanish. Previous to my joining the team at UCSB, I was working in local education-focused non-profits. I have been on campus for a little over 5 years and have worked in both financial aid and basic needs support areas. Being in higher education where I get to support the basic needs of our students has been important and meaningful work. My office is located in the Food Security and Basic Needs Advising Center – please do not hesitate to reach out and visit us!
Where are you and/or your family from?
Santa Barbara and Los Angeles, CA
What words of wisdom do you have for undocumented students?
Get connected with all the amazing resources available! It can be overwhelming to know where to begin however, there is no wrong place to start. Check-in and ask about any and all resources the next time you visit USS.
What is one thing off your bucket list?
Visit the Uyuni salt flat of Bolivia