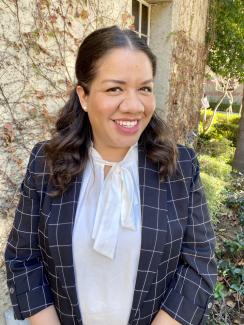 Staff Attorney
She/Her/Hers
UC Immigrant Legal Services Center ("The Center" or "UCImm")
(530) 574 - 6329
Department
UC Immigrant Legal Services Center ("The Center" or "UCImm")
About Me:
Amber Spring is an Afro-Latinx, Los Angeles native. Prior to joining the UC Immigrant Legal Services Center, Amber worked as a Staff Attorney representing unaccompanied children at Kids in Need of Defense ("KIND"). Amber previously represented families, children, and adults, in detained and non-detained removal proceedings at the Central American Resource Center ("CARECEN"). Amber also represented families, children, and adults in removal proceedings and affirmative applications at the Immigration Center for Women and Children ("ICWC"). She received her J.D. degree from Loyola Law School, where she received honors in the Immigrant Advocacy concentration and participated in the Loyola Immigrant Justice Clinic ("LIJC"). Amber is a proud UCSB alumna with a B.A. in English and Chicana/o Studies. Amber is from a working-class, immigrant family, who she credits with her work ethic, sense of humor, and fashion expertise. In her free time, Amber enjoys event planning, paddle boarding, cooking, traveling, and hanging out with her mini dachshund.
How can students connect with you?
Appointments
How can I help?
Please make an appointment for an immigration consultation for you and/or your immediate family members. I can assist with specific questions and screen for available immigration relief.
Where are you and/or your family from?
My mother is a Salvadoran immigrant, and now a US citizen, and my father was half black and half white.
What words of wisdom do you have for undocumented students?
The spirit of the universe is on your side; myself, this team, and so many other people across the country work diligently and thoroughly every day to make the world a safer and more just place for immigrants, their communities, and the world.
¡Sigue Adelante!
What is one thing off your bucket list?
See the Northern Lights.