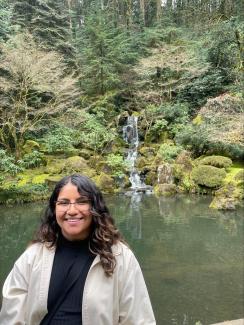 Graduate Intern
she/they
Department
Undocumented Student Services
About me:
Hi Everyone :) My name is Steph (they/she) I am a current graduate student at the Harvard Graduate School of Education. Before moving to Cambridge, I lived in Berkeley for 3 yrs for undergrad, but I am originally from South Oxnard, 805!
How can students connect with you?
Appointments
How can I help?
Please make an appointment for any questions regarding life after college (i.e. grad school, generating income regardless of income, etc)
​​Where are you and/or your family from?
My family and I are originally from Michoacan, Mexico
What words of wisdom do you have for undocumented students?
You are capable of so much, sometimes it can be easy to forget that, if you ever need a reminder please stop by!
What is one thing off your bucket list?
Visit the pacific northwest