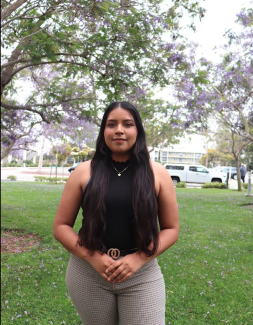 Student Development & Programming Intern
She/Her/Hers
How can I help?
Providing information about the resources, services, and programs offered by USS.
Connecting students to undocumented-friendly programs, resources, services, and staff outside of USS.
Navigating the UCSB Gold website and other university platforms.
About Me:
I am a Political Science and Spanish major at UCSB. I enjoy writing about my personal experiences which makes me reflect on the importance of self-advocacy. I also like healing my inner artist by drawing, painting, and creating digital art.
Where are you and/or your family from?
My family and I were raised in Michoacán, México, and migrated to Riverside, CA during my teenage years.
What words of wisdom do you have for undocumented students?
Do not let your status define your path in life, I believe you are capable of choosing your own path.
What is one thing off your bucket list?
Attend a World Cup soccer game.