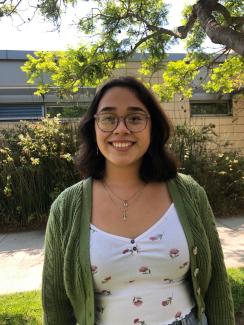 Communications & Student Engagement Intern
She/Her/Hers
AS Director of Dream Scholar Affairs
How can I help?
Being an undocumented first gen student at UCSB comes with a substantial amount of pressure feeling homesick, and feeling lost half the time. Whether you're undocumented, first-gen, or both, college is both an accomplishment and a fear due to our family's expectations or lack of knowledge of navigating college. However, being an undocumented student in college should never feel this way. As an intern, I can help undocumented students by offering resources specially useful for them and my confidentiality to advise and guide them through certain difficulties. I want students to feel like UCSB is their second home, proud of how far they've come, and know that they aren't alone and that tons of resources and people here want them to succeed.
About Me:
My name is Gabriela Salazar and I am a first gen Salvadoran student. I am a first-year and double majoring in Latin American Studies and Political Science. In the future, I hope to become an immigration/family lawyer and a well known activist photographer. Before college, I worked as a photographer and worked with Hoka and the LA Times, where I discovered my photography passion. I am also very social, enjoy discovering new places, and love my plants. Overall, I have been very blessed here at UCSB and hope to meet other undocumented students and show them that where there's a will, there's a way.
Where are you and/or your family from?
My family and I are from El Salvador.
What words of wisdom do you have for undocumented students?
As an undocumented student, there will always be someone telling you you can't do it but, this should only motivate you to want it even more and prove them wrong.
What is one thing off your bucket list?
One thing on my bucket list is going ziplining in Hawaii.