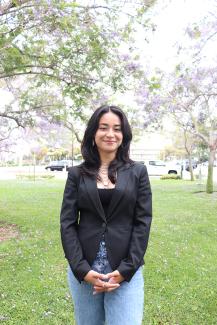 USS Internship Program Coordinator
She/Her/Hers
How can I help?
I provide students with on campus and off campus resources that involve legal and academic support, financial aid, emotional and mental aid. I am actively involved in the planning and coordination of events, programs, and academic sessions that are tailored to help undocumented students.
About Me:
I am an undergraduate student pursuing a B.S. Biology major and a B.A. in Spanish.
In my free time, I like to read, go on long walks or hikes, and I love spending a cloudy day watching movies and eating snacks.
I am a plant mom and I absolutely love animals.
Where are you and/or your family from?
My family and I are from Toluca, Mexico.
What words of wisdom do you have for undocumented students?
You are not alone! You have a whole community who supports you and wishes for you to succeed. There is always someone around you willing to help.
Do not give up on your goals and dreams, it does not matter how long your journey takes, all that matters is that you get there.
Perseverance is the key to achieving your goals.
What is one thing off your bucket list?
I am so proud and happy to have taken bungee jumping off of my bucket list, definitely one of the most thrilling experiences I have ever had.