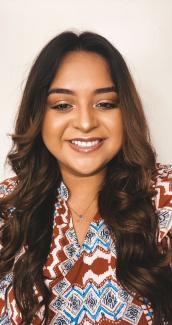 Financial Aid Advisor
she/her/ella
Office of Financial Aid & Scholarships (OFAS)
Office: SAASB 2103
805-893-3760
How can I help?
I administer state funding and work closely with Dream Scholar students to facilitate navigating the CA Dream Act and the financial aid process.
About Me:
I am a recent Graduate of UCSB with a BA in Sociology and Chicano Studies. I spent most of my undergraduate career working at a local financial institution. After graduation, my dream came true and I became employed by UCSB. I like to enjoy my weekends at the beach or on the hiking trails with my two pups. I also enjoy getting creative and accomplishing various DIY projects around my home.
Where are you and/or your family from?
I grew up in San Bernardino Ca. My mother is from Mexico City and came here to the US when she was 13. My father is a Puerto Rican/Mexican from Los Angeles.
What words of wisdom do you have for undocumented students?
You can do anything you set your mind to. The only thing that can stop you is yourself.
What is one thing off your bucket list?
I would love to visit all eight wonders of the world.